Donald Trump Jr. is the oldest child of presidential candidate Donald Trump and his first wife, Czech model Ivana Trump. He currently works along with his sister Ivanka and...

Donald Trump Jr. is the oldest child of presidential candidate Donald Trump and his first wife, Czech model Ivana Trump. He currently works along with his sister Ivanka and brother Eric in the position of Executive Vice President at The Trump Organization.
2. Penn Graduate
Just like his father, the Donald Jr. is a graduate of the Wharton School at the University of Pennsylvania. After graduating, he took year off to party in Aspen, Colarado, a lifestyle he admitted to giving up in order to settle down and work for his father.
3. Personal Life
Trump Jr. married fashion model Vanessa Haydon in 2005 and the couple have five children together. The wedding ceremony was officiated by Donald Jr's aunt, Maryanne Trump-Barry. In addition to serving as the executive vice president for his father's company, Donald Jr. founded the Trump Hotel Collection with his sister Ivanka and brother Eric.
4. Trophy Hunting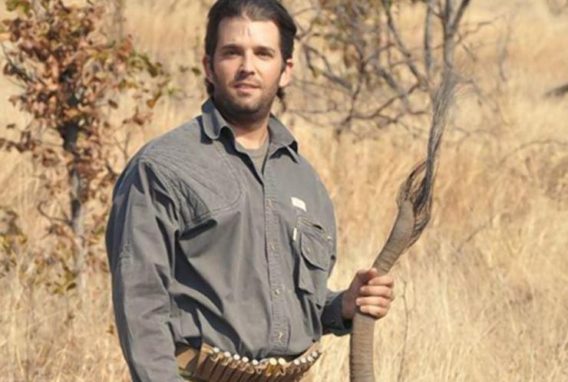 Junior's love of hunting is no secret. He's even admitted in an interview that hunting did a lot for him growing up, "in terms of keeping me out of trouble." In 2012, Donald made waves with this photo, after TMZ obtained and published photos of the Trump boys posing on safari in Zimbabwe.
5. Ivanka Trump, 34
Trump's eldest daughter Ivanka has become a successful businesswoman in her own right. She is Donald's second child with his first wife Ivana.
6. Career Woman
She's not only the executive vice president of acquisitions and development for her father's company, but she had a long modeling career, and is also a New York Times best-selling author.
7. UPenn and 'The Apprentice' alumna
Like her father, Ivanka is also a Wharton grad and she served as a judge on Trump's TV show "The Apprentice."
8. Conversion to Judaism
In July 2009, Ivanka changed her name to Yael after she converted to Judaism. The busy mom of 3 loves her new kosher lifestyle admitting that they are pretty observant and thoroughly enjoys the family time they have during the sabbath.
9. Her Own Brand
Ivanka had little trouble launching her own brand, which includes a jewelry line, a fashion label and a lifestyle collection.
10. Eric Trump, 31
Eric Trump, is married to Lara Yunaska, an associate producer at the CBS  television news program, Inside Edition. He has been a very active part of his father's career, and is his third child with his first wife.
11. Supporting Dad
Eric serves as an executive vice president for Trump's management company. He, like his sister, was a boardroom judge on "The Apprentice". Eric has been seen supporting his dad out on the campaign trail.
12. Philanthropist
In 2012, Trump was recognized by Forbes magazine among their top '30 under 30′ in real estate and by the New York Observer as one of the '20 Most Important Young Philanthropists'.
14. Tiffany Trump, 22
Donald Trump may have taken center stage at the first Republican debate, but it was a lesser-known Trump who caught our eye in the crowd. The real estate mogul's daughter, Tiffany Trump, has managed to stay out of the spotlight for years, but lately she's been popping up to show her support for her father's presidential campaign.
13. His Own Foundation
In 2006, he founded The Eric Trump Foundation, which, according to the foundation's website, has donated $28 million to St. Jude Children's Research Hospital,
15. Rich Kids of Instagram
Tiffany is all over the Manhattan social scene and is very active on Instagram. She's a regular poster. Here is a picture taken from her Instagram of herself and her family, including her better-known half sister, Ivanka Trump, and half brother Eric Trump.
16. Socialite
The busy socialite spends her summers in the Hamptons. All her socializing hasn't gotten in the way of her bringing out a pop single. Tiffany also landed a coveted internship at Vogue with a little help from her half sister Ivanka. She even got to have lunch with Anna Wintour.
17. Studying Hard
Tiffany attends her father's alma mater, the University of Pennsylvania, where she is double majoring in sociology, with a concentration in law and urban studies. Her proud father is delighted that she received all A's at Penn.
18. Barron Trump, 9
This is Barron, son of Donald and Melania Trump. If his father becomes President of the United States, he'll be the nation's First Son in the White House.
19. Youngest of the Trumps
Barron Trump has a whole floor to call his own in the family's Manhattan penthouse. In spite of his privileged life as the son of extremely wealthy parents, his mother and father believe in being hands on for their child. The Trumps have staff who cook, clean, and tend to other needs they have but don't have a nanny for Barron.
20. An Active Kid
His parents say he loves sports and enjoys playing baseball and tennis. The father-son duo also play golf and enjoy having dinners together
21. Following in Dad's Footsteps
Nine year old Barron Trump, who loves to wear suits like his famous dad, is likely to follow in his father's footsteps in business or even politics. He stands to inherit a ridiculous fortune whichever direction he goes. All eyes will be on this young man as he grows older and possibly takes up residence with his parents in the White House.
22. The Trump Family
There is no doubt in our minds that the Trump clan are used to life in the spotlight. However, it'll be interesting to see how things turn out in the coming months. Will this stunning lot soon become the first family of the United States?