Birthdays are often cause for intimations of mortality. Barack Obama, who turns 55 on Thursday – his last birthday in the White House –...
Birthdays are often cause for intimations of mortality. Barack Obama, who turns 55 on Thursday – his last birthday in the White House – is no different.
"I am positive that if I'm lucky enough to live to a ripe old age and I'm on my deathbed and I'm thinking back on my life, I won't be remembering some speech I gave or some law I signed," he mused on Wednesday. "I'll be remembering holding hands with one of my daughters and walking them to a park. That'll be the thing most precious to me."
The US president was addressing a summit of the Mandela Washington Fellowship for Young African Leaders in Washington. He was greeted by chants of "Yes, we can!" – a once thrilling cry that already has a wistful ring – and a lusty chorus of Happy Birthday to You.
One member of the audience asked him about the importance of family life to political leaders. "Maintaining balance, having a strong partnership with your wife or husband, raising children who are kind and useful and strong and generous and all the things that my wonderful daughters are, that really is its own reward," Obama said to applause.
He noted that some great leaders have not had happy personal lives, and some outstanding fathers and parents have been bad leaders. "The two things don't always align," he acknowledged.
"For me, the reason that it's been useful to maintain that balance is I think it's grounded me. It's allowed me, during the course of my presidency when things aren't going so well, to remember that I have this beautiful family and this wonderful wife.


"And when things are going very well, it's good to go home and then my wife teases me about how I left my shoes in the middle of the living room, or my girls think what I'm talking about over dinner is boring, and that brings me down to earth."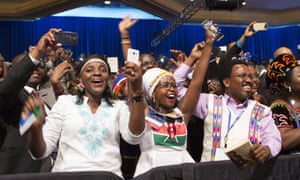 Increasingly, as his presidency winds down, Obama is striking a reflective and wry tone. The media is now treating him kindly, he noted, as it concentrates on the battle to succeed him. "There have been times when I thought the press was very unfair and I'd open up the newspapers and go, 'Agh, what?' and I'd start arguing," he said. "But there have also been times when the press have started investigating something and I've thought, 'You know what, this is a problem'.
He would "rather have the press err on the side of freedom" than be censored by a country's president or prime minister, Obama, the son of a Kenyan, added in a warning to many African nations.
Interacting with young leaders has been a cause close to Obama's heart. He discussed the merits of pursuing a political career. If he had lost his US senate race in 2004, he admitted, he was ready to quit politics and do something else. His advice to aspiring politicians: "Worry less about what you want to be and more about what you want to do."
He added: "Politics is a little bit like going into acting or being a musician … You can be really talented but maybe the timing is off … Maybe you didn't get the lucky break … When you think about me being president of the United States, it was quite unlikely."
His breakthrough moment in 2004 only came about because nominee John Kerry chose him to speak at the Democratic convention, Obama recalled. "I gave a pretty good speech," he said, and the next day he was an overnight media sensation and being talked about as a future president. But, he told a friend at the time, he hadn't "magically" become so much better than in his days as a state senator. Fate had played a part.